About Us
Bugler Coaches has been providing service to coach and bus passengers in Bristol since 1956 although the business is even older. From the firm's humble beginning with one vehicle in 1947 the Company now operates a large fleet of coaches and buses from it's purpose built depot at Clutton, near Bristol
The Company monitors its vehicles and drivers 24/7 using the very latest computer technology. Every vehicle can be tracked on screen day or night and all of the Company's systems are linked to a powerful server at head office. The on-line coach booking system is among the most powerful of any coach operator in the UK and even allows the passenger to choose their seat on the coach
The pictures and narrative below depict the story from 1947
A Kew Dodge built for H.G.Bugler (pictured right) by Longwell Green Coachworks in 1948
Leyland 1950
Ford Duple and Red Bedford
Up untill the late 1980's all the sign writing was hand painted!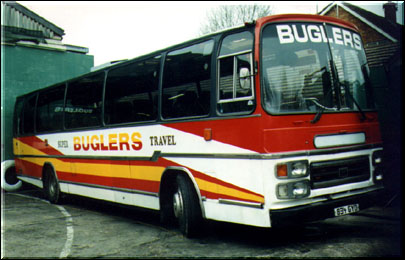 Ford Plaxton
Bedford (ex Clarkes of London)
The family firm of Buglers was established by Robert Bugler's father Herbert George Bugler. It started life as a carrier service just before the Second World War, but was suspended when Herbert was recalled to the Navy
After the war the Company was formally registered in 1947 as a carrier and home removals firm. The operating base was Frazer Street in Bedminster - the family home of Herbert's wife Frances. The first van purchased brand new was a Morris Commercial, which had a Longwell Green Coachworks body
About 1953 Herbert and Frances moved the Company to its well known site in School Road, Brislington. In those days School Road was just a single carriage lane, with passing places, and no housing in School and Clayfield Roads. In 1956 Herbert went to an auction with a view to the purchase of another lorry, whilst there he spotted a coach. He was the successful bidder of a 27 seat Opel coach, and the coach hire side to the business was born
Up until this time it was a regular occurrence for the local Sunday School or the local Scout Group to go on a day trip in the back of a Buglers removal lorry! an activity definitely not recommended in this day and age. So the coach purchase proved very popular
The Company went through a difficult stage in the early 70's when Herbert suffered a long session of ill health. Robert was called into the family business full time, having to leave his job at Longwell Green Coachworks where he qualified as a vehicle bodybuilder. Removals were being done, but coaching was taking over more and more, and the last removals were done around 1979/80. One van was kept to transport camping equipment for Scouts and School/Youth camps but even this stopped around 1988
Uncertainty about the future of the business followed the death of Frances in 1984, and the family began to break up. Some property and vehicles had to be sold, but Robert stayed at the site in School Road to continue to operate what was left of the business with his wife Sue
September 1986 saw deregulation of bus services. The large bus operators took what services they wanted to operate on a commercial basis, and what was left was given out by the then Avon County Council in the form of tenders to any bus and coach companies who wanted to put their bid in
Bob and Sue saw deregulation as a chance to get established again, with a more modern fleet. So as well as private hire and day trips, Buglers had now taken on local bus services, mainly for schools and workers, developing the PCV Driving School, and by 1988 won a tender for Avon's first fully accessible bus service – the Easyrider. This service needed a special bus to carry passengers who needed to travel in wheelchairs and this was built to the councils' specifications, but purchased by Buglers
Customers wanted to hire the vehicle evenings and weekends too. Bob and Sue quickly realised that there was a great need for accessible transport, and from here they have adopted the policy of replacing vehicles where possible with accessible ones
In April 2007 Bob & Sue Bugler sold their business, now a limited company, to Bath Based Computer Village Group and the new management quickly set about modernising the business. The fleet was moved to a purpose built depot at Burnett and the operation was put under the control of new ICT systems including biometric log ons for the drivers and 24 hour vehicle montoring using GPS technology. The fleet was upgraded or replaced and new services introduced
For the first time in it's history Bugler Coaches sold day excursions to places of beauty and interest and in March 2009 Bugler Coaches won the prestigeous Best Accessible Coach Operator in the UK Award against strong competition including National Express who were the runners up
In 2013 Bugler Coaches moved to a new purpose built depot at Clutton which has excellent modern workshop facilities and 'green' features which include the use of collected rainwater for the washing of coaches and buses.
Bugler Coaches are pleased to thank
Apollo Technology Solutions Ltd
for Computer Hardware Supply & Support
Phone 01761 435388


Bugler Coaches
Winners of UK Coach Awards 2009